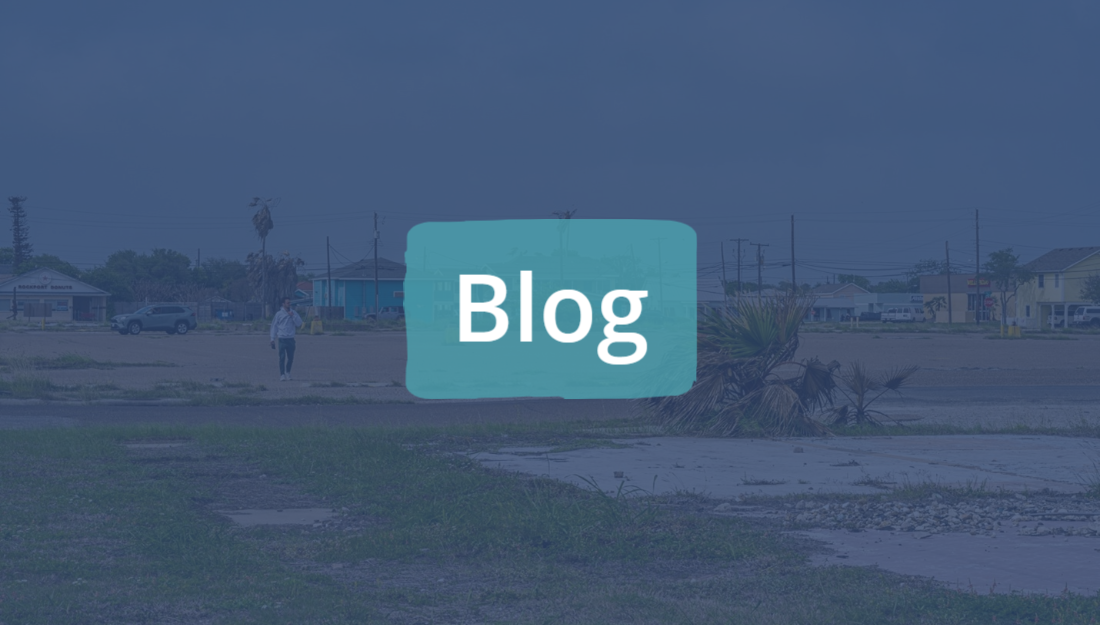 In the Eye of Hurricane Season
Remembering Harvey and Storm Preparation
John Oeffinger
Director of e-Learning And Training​
​Texas Health Institute
August 25th marks the fourth anniversary of Hurricane Harvey slamming into Rockport, Texas- most people will remember the devastating rainfall. The Category 4 hurricane and its 130-mph winds created a path of destruction through the city of 10,000 people as it came ashore. Over 2.5 million cubic yards of debris were removed from Rockport in the five months after the storm. By comparison, Houston, a city 216 times Rockport's size cleared 3 million cubic yards of debris. A front row seat watching the eye roll across Rockport provides an eye-opening view of Harvey's force. Cleared cubic yards of debris are not necessarily based on the size of the city.
National Oceanic and Atmospheric Administration (NOAA) predicts another active hurricane season this year, which began June 1st, and forecasters predict multiple major Category 3 to 5 storms. It's not too early to prepare for a hurricane or tropical storm. The CDC provides excellent guidance including what emergency supplies to stock in your home, planning to evacuate, and protecting older adults and pets. CDC's practical information and guidance should be bookmarked on your browser. Staying safe after a storm is just as important as preparing for one.
Your mental health and resilience should not be forgotten in planning. THI's Texas Hurricane Response Hub created eight online courses for public health, first responder, emergency response and preparedness professionals, and healthcare practitioners. Protecting Your Physical and Mental Health Before, During, and After a Disaster provides guidance on how to prepare yourself and your family for a hurricane, both for health professionals and members of the community.

Almost four years later, Rockport is still rebuilding. Crumbling foundations, remains of rusting light posts ripped from their bases, and remnants of a fire extinguishing system all serve as reminders of the devastation the city faced. But, Rockport is resilient, the town is rebuilding, and businesses and tourism are coming back. The COVID-19 pandemic didn't help matters but driving through the town you can see rebuilding and positive changes. A community does what they can with the resources available. Again whether it's media attention to stay in the public's and funder's view or the number of staff to chase down different funding opportunities, size matters.
Rockport and other coastal areas will see storms this year and in the future. There is still work to be done, and doing it correctly will require applying a health equity lens to planning and rebuilding efforts. Hurricane Katrina exposed inequities in racially, ethnically, and linguistically diverse communities across a continuum of preparedness, response, recovery, and mitigation activities. THI's Health Equity team created a body of work post-Katrina that can help local agencies orient and consider the importance of health equity in hurricane planning and recovery. Preparing Racially And Ethnically Diverse Communities For Public Health Emergencies and Guidance For Integrating Culturally Diverse Communities Into Planning For And Responding To Emergencies: A Toolkit are excellent starting points.
"Now is the time for communities along the coastline as well as inland to get prepared for the dangers that hurricanes can bring," said Secretary of Commerce Gina Raimondo. Regardless of a city's size, a hurricane can come ashore anywhere along the Texas coastline spanning 15 counties and 3,359 miles. Per the CDC "planning for hurricane season and other potential disasters can be stressful, and because the 2021 hurricane season comes during the coronavirus disease 2019 (COVID-19) pandemic, it may be especially so.
Public health and emergency response professionals have advice to help you safely prepare, evacuate, and shelter for severe storms while protecting yourself and others from COVID-19." Now is the time to prepare for this year's storms.