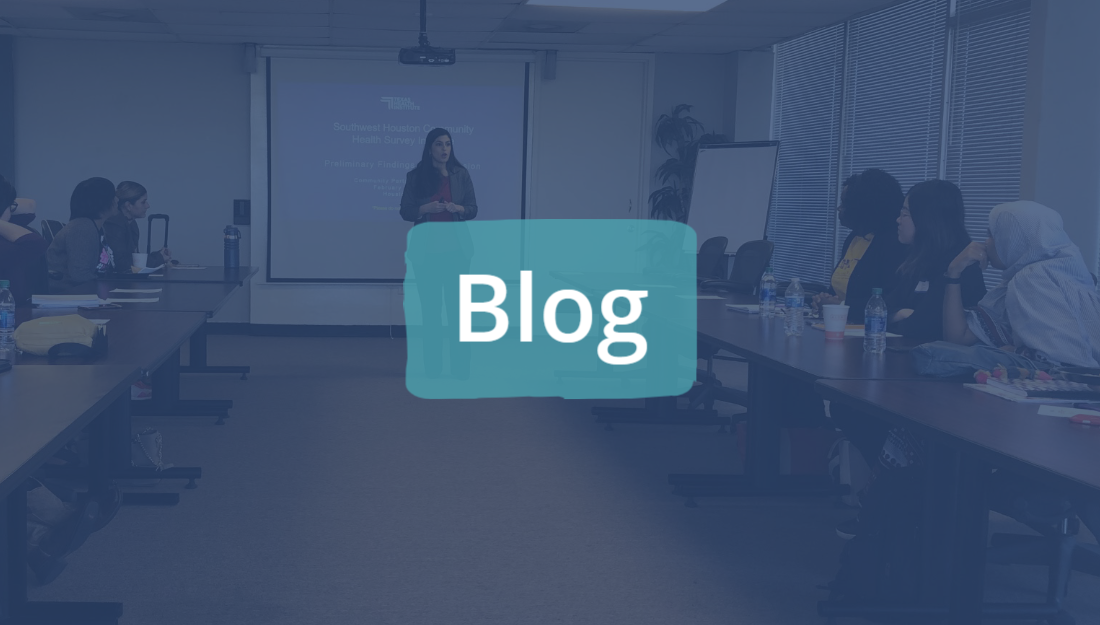 ​THI Thanks Nadia Siddiqui, Chief Health Equity Officer
Texas Health Institute (THI) announces that Chief Health Equity Officer Nadia Siddiqui will be stepping down from her role on October 29, 2021. After 12 years, she has made the decision to focus on her children in these unprecedented times, but will remain a close friend, ally, and advisor to our team.
"Nadia's impact to health equity at the national, state, local and community levels cannot be overstated," says Executive Director Ankit Sanghavi. "We are thankful for the strong foundation she has laid that will enable THI to expand our footprint on this path towards achieving health equity."
As Nadia marks her final week with us, we reflect on her journey, wisdom and the impact her work has had on health equity at all levels.
The Start
While equity is now a common rallying cry, it was not always a priority in health care and public health. Nadia started at THI as a senior analyst, working alongside Senior Research Scientist Dr. Dennis Andrulis, who brought his expertise in health disparities research to THI in 2010. In particular, their post-Hurricane Katrina work with the Office of Minority Health developed into guidance for integrating diversity and equity into public health preparedness and response. With the passing of the Affordable Care Act, Nadia contributed to over a dozen policy analyses and reports on the law's opportunities and impact from a health equity lens.
While expanding national partnerships for health equity, Nadia transitioned to Director of Health Equity Programs in 2014 and to THI's inaugural Chief Health Equity Officer in 2020. Since 2015, THI has worked with the National Collaborative for Health Equity and the Virginia Commonwealth University on the groundbreaking Health Opportunity and Equity (HOPE) Initiative, including an interactive platform with equity data and benchmarks. We also partnered with United Health Foundation and America's Health Rankings to produce the biennial Health of Those Who Have Served report on veterans' health since 2016 and their inaugural Health Disparities Report in 2021.
These and other national partnerships led by Nadia have allowed THI to become more creative, strategic and analytical, paving the way to further health equity work at every level.
The Path
While her journey started at the national level, Nadia was driven to bring that work to Texas. "Texas hasn't done a great job of moving the needle on health," she says. "We've fallen far behind on many measures, with deep and persistent inequities. Closing these longstanding gaps will require moving upstream, working across sectors and with communities to address the root causes of health inequities—including systemic racism and other forms of discrimination built into the fabric of our systems."
Bringing the work to Texas started with a major opportunity through the Robert Wood Johnson Foundation to understand how nearly two dozen cross-sector community initiatives across Texas work to advance health equity. In Southwest Houston, Nueces County, and other communities nationally, Nadia led efforts to offer new models for engaging communities to co-design and co-implement data initiatives to improve health and well-being.
"Centering communities as the experts is at the heart of the work of health equity," Nadia says. "Some of my most gratifying work at THI has been with communities, and while we have come a long way, I hope to see THI only further grow in its efforts to authentically engage communities for meaningful and sustained impact."
The Legacy
"As a public health institute," Nadia says, "We have the unique and unprecedented opportunity to be a leader in changing the narrative, changing lives, and having a true impact on equity. It starts with us as individuals, as an organization, and bringing other partners along on the journey."
With so much of public health driven by policy, philanthropy, and health care entities, she hopes THI can be a compass to bring alignment to the disparate initiatives across sectors in Texas. She and Executive Director Ankit Sanghavi have long championed the idea of a Texas Health Equity hub—a statewide network of regional and local cross-sector community health initiatives and leaders that align around a shared vision, metrics, and evidence-informed strategies for achieving health equity.
Nadia also stressed the importance of advancing diversity, equity and inclusion internally. She emphasizes, "I have always wanted THI to walk the talk and become a leader by demonstrating equity principles and being an authentic partner to support other organizations on the same journey." She helped centralize health equity in our strategic framework and launch initial pieces of an internal health equity assessment of our governance, structures, policies, and practices. "I am confident that THI will carry forward this work from infancy to adulthood and beyond."
THI is grateful for the legacy Nadia created through her dedication to advancing health equity at all levels. We remain deeply committed to the vision of health equity and are resolved to build on the foundation Nadia has laid and expand it further to drive meaningful change, improving the health of all. We are excited to expand our capacity through new dedicated health equity positions—including a nationwide search for a Chief Health Equity Officer—that we will be announcing in the coming days.
We appreciate the incredible years that Nadia gave us and the people of Texas. We wish Nadia success and happiness with her family and in all her future endeavors.
​
Thank you, Nadia, for your tireless leadership and dedication to health equity.